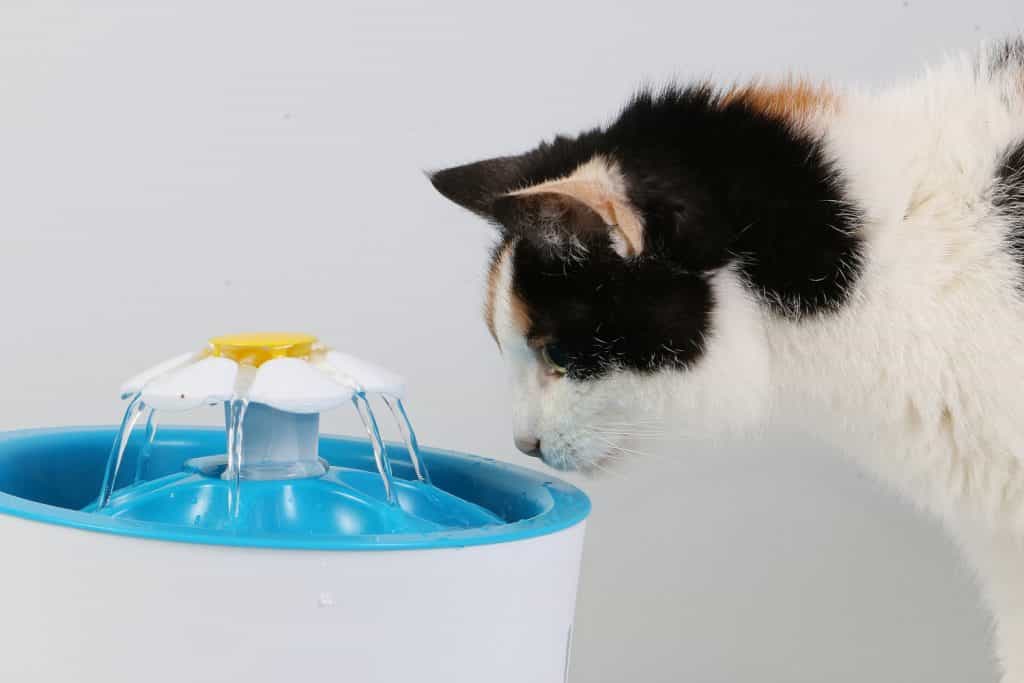 Are you living in an area where power outage is a problem? or you want to place the cat water fountain at a place where no electricity is available? You might be thinking for the convenience of your cat, but yes, your need electricity to run the fountain round the clock so your kitten can stay hydrated in else situation, water may become a dream for her. These scenarios push us to research the battery-operated cat water fountain. Still, alas, only a few are available to buy, and surprisingly not the famous manufacturer is making battery-operated water dispensers for cats.
The best battery-operated cat water fountain depends on the rechargeable battery or replaceable batteries, allowing it to run and place anywhere in the house where your feline feels most comfortable to drink water, it provides an easy way to keep felines dydrated.
We make efforts, and our research helps us find the best one and put them in chronological order as we recommend them. We know that the dilemma of water for cats can become worse if they do not see water that they can drink, and hydration can be life-threatening for many breeds.
You might not find any battery-operated ceramic cat water fountain as most of these useful fountains are only available in plastic-made types.
Let's move on to product review that we select to share with you.
1. WellToBe Battery Operated Cat Water Fountain
Key Features
Smart mode: equipped with a sensor that can detect your pet and simultaneously fountain start operation so the pet can drink water, fountain remain functions until pet remains in the range of 0.5 meters.
Energy saver: it saves you on energy cost as its smart mode only power up the motors when it detects pets near to it.
Dual power supply design: You can charge and use the battery when there is a need to place it without a cord or a distant area, but primarily it runs on power; your cat can get an uninterrupted supply of water even in a power outage.
Silent pump: equipped with a 2-watt pump that is minimum in this category, and it's surprisingly quiet and low consumption option
Pet safe material: made with the BPA-free material, which is completely safe for cats and other pets at your home, it's completely non-toxic.
Large capacity: water supply for multiple days; yes, it comes with a 2.5-liter capacity that can last for multiple days. There is no need to replenish the water every day.
Reliable filtration system: comes with a replaceable charcoal filter that cleans the water and eliminates any chance for germs to attack your cat.
WellToBe Battery Operated Cat Water Fountain is our first recommendation. It comes with a rechargeable battery that lasts for a much longer time than other fountains in this list. More importantly, it's a smart device that can detect your cat within the radius of 0.5m, and the pump only functions when the cat comes in this radius. You can turn the smart feature on and off.
This smart feature also reduces power consumption and saves the battery for longer use. While on the other side it also runs on the normal wall outlet. You can plug its adapter into any wall outlet. The innovative design integrates the water pumps so that dirt and fur cannot go into them. With 84 oz water capacity, it can keep your multiple pets hydrated, while for a single one, this capacity is enough for multiple days.
Water replenishes indicator also comes as standard in this cat water fountain. Its LED turns red, which means you need to replenish the water. While holding splashes, a silicone mat is included in the package so there will be no mess at the place of the water fountain.
We cannot ignore the importance of hygienic water for cats. It's also catered in this model, equipped with a charcoal water circulation filter which keeps the water fresh as well as clean and hygienic
Drawbacks
Battery is not included in the package, that will incur additional cost to you.
2. Petmate Fresh Flow Rain Battery Fountain for Cats
Key Features
Fully battery operated: it gets its power from 4 D-Cell batteries, so it's an ideal fountain to use anywhere in the house where your cat feels comfortable drinking water.
Circulating water: a high-capacity water circulating system that provides fresh water and ensures pets get circulating water not stagnant.
It comes with battery-saving technology: the pump turns off automatically and then turns on to recircle the water.
Filtered water: debris from the water cannot reach the stomach of your cat, thanks to its effective filtration system that ensures clean water.
Multiple drinking points: topwater cascades are an ideal space for many cats to drink, with each in a standing position while the bowl and flow out system also encourage the kitten to stay hydrated.
We believe that Petmate Fresh Flow Rain Battery Fountain for Cats is the first product of battery power. The petmate starts the Battery-operated cat water fountain trend, and then many others follow them. But when we look at the technical side, we see that many new features that cats love are missing in this fountain. Like cats love to drink from the fountain petals and flow outs, both are missing here.
Its top cascade system acts just like a small bowl, and its lower flow out is too short/small. A cat can't drink from it. In contrast, it's a good choice for those cats who like to drink from the bowl and like circulating water. A large base bowl allows multiple pets to drink water simultaneously.
The capacity of 75 ounces is enough for multiple days when it comes to keeping a single cat hydrated. While multiple pets also can have the water for a full day.
Drawbacks
Batteries are not included in the package, you have to buy 4 D cell batteries separately.
3. Dog H2O DH025 Cordless Battery Operated Pet Water Fountain
Key Features
Run-on Batteries: operated by batteries, 4 D cell batteries required to run it that will last for months, thanks to its low consumption pump that runs on minimal power, it's electronic programming also plays an important role in minimizing power consumption.
Large drinking area: tub style drinking area is large enough to accommodate three cats simultaneously. Moreover, it regularly filters the aerates water to minimize saliva and slime build-up on the water surface. It's one filtration cycle that takes 2 minutes and circles once in 45 minutes.
Quite and reliable pump: aquarium pump is used, which is already trusted by many aquarium manufacturers. It's from the AA aquarium.
Authentic filtration system: it is pertinent to mention here, it comes with 3 filters, and spare filters are also available. Moreover, its filters are made while keeping quality in view and can provide clean and fresh water to cats.
Dog H2O Cordless Battery Operated Pet Water Fountain is an ideal water drinking system for multiple cats; its large tun and transcalent base can store water that your cat can consume for multiple days. You can see the water level and can decide to replenish the water.
The manufacturer also includes 3 dental care tablets. It makes possible clean water all day long with its 200 fl capacity. Most importantly, it's dishwasher safe; disassemble and place it in the dishwasher for deep cleaning. Its material is completely BPA-free and food-grade, which means it's safe for all pets at home.
We also recommend this fountain in our list of cat water fountains uk on the basis of its futuristic functions and durability.
In our view, it's not a real fountain as its pump, and the circulating mechanism only circulates and filters the water; this whole process keeps the water fresh and healthy.
Drawbacks
Batteries are not included in the package; you have to buy them separately. It's water circulating and filtration system, not a real fountain.
4. HoneyGuaridan Dual Power Automatic Pet Fountain
Key Features
DC adaptor and battery Support: comes with dual power support; primarily, it runs on the standard power; you can plug in an adapter in any wall outlet, and while an emergency when there is a power outage, it can be operated with batteries.
Choice of smart mode: it is also equipped with a smart mode that only makes it functional when the cat comes within 0.5 meters distance or a 60-degree area.
Clear Design: it's a crystal-clear design that allows you to see inside, you can see the water condition, and you can decide when to replenish the water in the water fountain.
Large capacity: it's enough to keep a kitten hydrated for multiple days, while its bowl allows multiple cats to drink at the same time.
We are very much convinced of the quality and performance of the HoneyGuaridan battery operated cat water fountain. It's made to last, and it is made to keep the owners informed. We like and always admire its clear design to see the hygienic situation of the water fountain and plan when to replenish the water.
It's easy to assemble and easy to disassemble, while its batteries can run fountain for multiple months. No maintenance is required other than routine cleaning. The BPA-free material is safe for pets and also safe for other four-legged animals in your house, so you can use it for any pet you have.
If you are no found in smart mode and running this fountain on the electricity, you can run the smart function on and let it operate all the time; the water will remain in circulation and fresh and healthy.
Drawbacks
Batteries are not included in the package, you need to order them separately.
Wrap Up
All of us like convenience in our life with cost-effective options. This is why we buy electric water fountains for our felines that we place near a wall outlet that does not bother us or come into our way when we move into the house.
But when you realize that your cat is not drinking water from the place where you fixed the water fountain for him. That is the time you need to take your feline seriously and need to buy a battery-operated cat water fountain and place where your cat feels comfortable and spends most of his him. It might be under a shade, bed, or any corner of your house where you do not have an ordinary wall outlet.
Some cats do not like water, and even there are medical conditions when cats stop drinking water, but when you provide fresh and clean water near them in a water fountain, they will surely drink that water and keep themselves hydrated. A battery-operated water fountain provides you benefit like:
No electricity is required to run it.
Ideally, you can place it anywhere.
You can change its location as required.
It can be used for multiple pets.
Perfect to use in areas where power outage is a routine.
Batteries last for months.
Only a few options are available; here in this article, we listed the ones that we trust and tested; buy any of the above-listed ones with confidence that I can serve your cat round the clock. All of these water fountains depend on multiple "D" cells.
Also explore what can cats drink besides water? it will help you to understand what you can offer to drink to you loving feline.