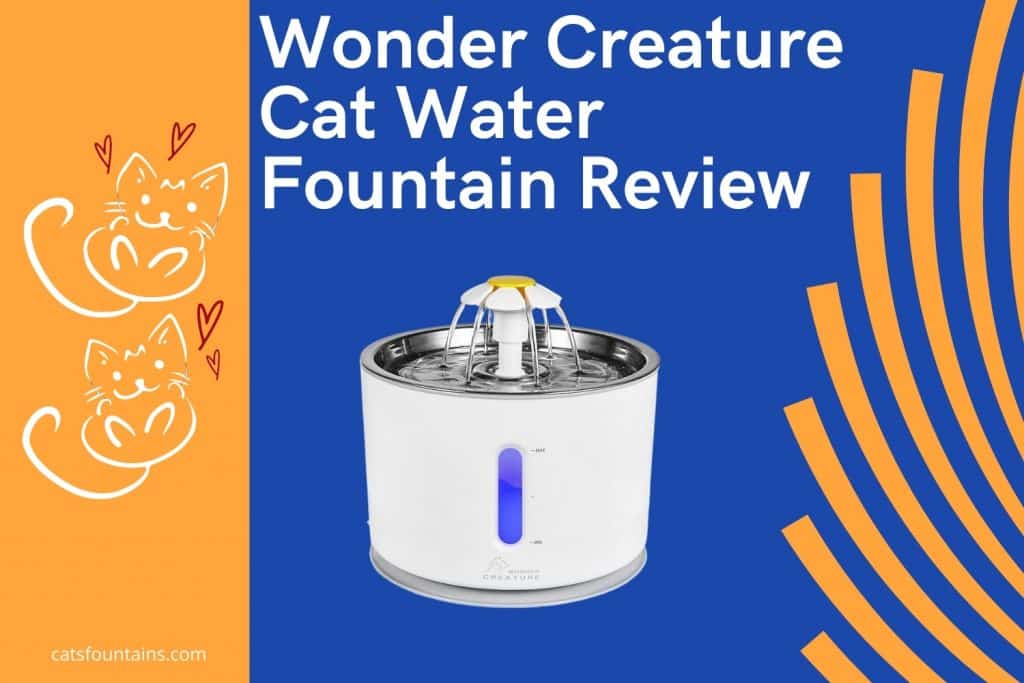 Wonder Creature did change everything for my cats and me. I bought this water fountain from Wonder Creature for my beloved cats Nini and Kisa, after realizing that Kisa doesn't drink water from the water bowl, unlike Nini. I have had Nini for over three years now, and she has been drinking water from the water bowl just fine, whereas I adopted Kisa recently.
Kisa's drinking habits worried me a lot because she would often throw her paws in the bowl or sometimes spill the water by knocking off the bowl. That's why I needed something that could motivate Kisa to drink water to remain hydrated as soon as possible. Therefore, the water fountain is the solution I came up with.
I learned many things about water fountains and their benefits recently as I had no experience with them before. I am quite satisfied with my purchase of this water fountain by Wonder Creature for many reasons, which I will list below for everyone.
To help you in selecting the best cat fountain we recently published a detailed buyer guide along with commonly asked questions and our expert also discusses other aspects which you love to know, So please visit to know more about cat fountains.
i) Dual filtration system
This water fountain offers a dual filtration system. The pre-filter sponge traps cat hair, dirt, and debris while protecting the water pump from clogging, enhancing its functionality, and increasing its longevity.
The other circulating filtration system of carbon filters is made of cotton, ion exchange resin, and activated carbon. The filter built with such an amazing combination cleans the water thoroughly by filtering out the cat hair, debris, food particles, bacteria, and harmful contents from the water while improving its taste and odor.
Thanks to Kisa, I am quite glad that Nini also gets to drink fresh and clean water from the water fountain now. Sadly I never paid attention to such details before and presented water in the bowl without thinking that it could prove bad for my cats' health.
ii) Stainless Steel
The high-quality stainless steel placed at the top of the water fountain considerably adds to water protection from bacteria and other microbes. Moreover, it is effortless to clean and maintain stainless steel. I put it in the dishwasher, and there you go, it comes out super clean and shiny. Plus, I like how it's so durable and promotes ultra hygiene.
iii) BPA-Free
This water fountain is composed of BPA-free and food-grade material FCC certified, so it is completely safe for my cats to drink water from it.
iv) Water pump with automatic shut-off
The water pump is amazing because it works efficiently and quietly. I appreciate the noiseless operation of the water pump because I am very sensitive to noise. Also, the loud noises irritate and sometimes scare my cats, so it is best in that sense.
Secondly, the automatic shut-off is a blessing for a person like me who often forgets stuff easily. Whenever the water level gets super low, the pump automatically stops pumping, saving the motor from burning out in a dry water fountain. The cleaning of the water pump every two weeks is essential for its long life expectancy.
v) LED Light Indicator
LED light indicator is not incorporated only for decoration but also to indicate the current water level status. The LED indicator turns red and allows me to find out that a refill is required.
Not going to lie; the LED indicator is a very nice addition to the design because not knowing when to refill the water fountain could become a nuisance. Therefore, it makes it very convenient for a forgetful person to find out exactly when I should fill the water fountain again for my cats.
vi) Large capacity and Easy refilling
This water fountain is quite big and spacious. It offers a large water-containing capacity for cats to drink water for a little over a week with ease. Moreover, it is very easy to refill the water fountain once the water level drops. I pour water onto the stainless steel from a jug which lasts about a week or so.
3 Modes Multi-Directional Streams
The three modes described as Flower waterfall, Flower bubble, and gentle fountain allow the user to customize the drinking mode for their cat to suit her moods and comfort. However, I haven't tried changing the methods because my cats drink from the standard flower waterfall mode happily.
The multi-directional streams allow my cats to quench their thirst comfortably from any angle. Studies show that flowing water motivates cats to drink more water and stay hydrated compared to still water. It is also considered healthy because of the added oxygen and freshness in the water.
I didn't know this information in such detail before, so it is a relief that I bought this water fountain as Kisa started drinking from it as soon as I set it up, which encouraged Nini to drink water from the fountain. Both my cats look remarkably happy nowadays and play actively, which is quite satisfying.
i) Assembly
The assembly of this water fountain is quite straightforward. A manual comes with the product, which explains the assembly in simple terms. However, watching the parts arrangement video made by the company proved to be a more efficient way for me to understand and learn the assembling of the parts.
It didn't take me much time to put together the whole thing after going through the video twice. Therefore, it wouldn't take more than 15 minutes to assemble the water fountain conveniently.
ii) Maintenance
Maintenance is required every two weeks. The sponge filter is reusable, so it can be washed or replaced every 2-3 months, whereas the carbon filter should be cleaned every week and changed 2-4 weeks periodically.
In my case, I wash the water fountain every week because I have two cats that drink from it, so that sort of doubles the amount of cat hair and other germs that it might filter out and change the filter every two weeks.
Pro tip: I use diluted Apple Cider vinegar and water solution to wash filters as it is more effective and safe than soap or detergents.
You have to disassemble the whole thing to clean everything and then reassemble it, which does not take a lot of time, especially with practice; the entire process can be done quicker than usual. However, I have to admit that maintenance is a hassle because I have always used a water bowl until I shifted to this water fountain.
The water bowl never required such intricate cleaning and maintenance. Nevertheless, seeing my cats staying hydrated is my foremost priority. That's why even if continuous maintenance is an issue, I still manage to take care of it.
iii) Silicone Mat and Cleaning Brushes
One of the reasons I love this cat water fountain is that it comes with useful accessories. The silicone mat is of good quality, which I put under the water fountain to reduce the risk of water spilling on the floor to keep it clean and slippery-free.
The cleaning brushes come with the water fountain set that makes cleaning and maintenance much easier and convenient. I use these adorable small-sized brushes to clean the water pump and other parts of the frame.
The Full Package
My cat water fountain came with three carbon filters, cleaning brushes, a sponge filter, a silicone mat, a water pump, an adapter, and a user manual. In short, it is a complete package one could ask for.
i) Energy-efficient
This cat water fountain is quite energy-efficient and allows 1.5W low consumption that saves money on the energy bills. Not to mention, the automatic shut-off also plays a big part in saving energy.
ii) Visual Appeal
This water fountain is visually appealing, especially with the flower design from which the water flows in all directions. The overall design is compact, whereas the color combination is very decent and plain, making it eye-catching and harmonizing well with the rest of the house décor.
Therefore, it can fit in any room and not look out of place due to its beautiful aesthetic appeal.
Benefits
It operates quietly, so neither will your cats get scared nor will you be annoyed.
It is aesthetically quite appealing and goes well with most traditional house decors.
Ensures access to fresh and clean water to the cats by filtering the water thoroughly.
The dual filtration system captures cat hair, dirt, debris, food particles, and bacteria.
The stainless steel adds an extra layer of protection, covering the water beneath, not giving any small insects or dust chances to contaminate the water.
It is energy-efficient, so it does not take a lot of power to function.
Auto shut-off provides water pump protection and longevity, promoting its work efficiency and saving the motor from burning out.
LED lights indicate the status of water levels and inform the user about the right timing of refill by blinking red.
Additional accessories are pretty useful and create extra convenience.
The assembly is a piece of cake.
Disadvantage
If you are lazy like me, the only disadvantage this amazing cat water fountain has is the regular maintenance required to function properly.
With everything said, I am quite satisfied with the product and love it as much as both of my cats do.
Other Brands We Reviewed